Complete Safe Relax Kit - Three Wire Tips + 4 Hooks
Removal of a bridge or crown remains a delicate procedure. With these constraints in mind, Anthogyr has developed the SAFE RELAX®. The intensity and frequency of the micro-strokes can be controlled to ensure enhanced comfort and results, letting you work in complete safety. The SAFE RELAX® crown and bridge remover enables you to successfully carry out crown and bridge removals without stress for the patient. Its unique non-reloading mechanism fits onto all brands of electric and air motors. Its high-frequency micro-strokes make it the fastest system in the world : up to 20 movements per second. Porcelain is protected by the regular and controlled intensity of the micro-strokes. The SAFE RELAX® comes with a wide range of inserts to suit all prosthesis configurations.
ATD Wire Tip System is essentially recommended for bridge removal, they are inserted into interdental spaces. Bridge protection. Safety : wire-tips provide sturdy support (no risk of it slipping). Working along the tooth axis : reducing the risk of root fracture. Ease of crown removal.
Ergonomic design for improved grip of the instrument
The bayonet attachment lets you insert your hook or wire-tip in a single hand movement!
The high-frequency of micro-strokes  make it the fastest system in the world: up to 20 movements per second!
Unique! Non-reloading mechanism: maintains a constant working axis and precise, continuous contact with the porcelain
Intuitive intensity adjustment ring for the comfort of controlled intensity
Wide range of inserts to suit all prosthesis configurations
Fits to all electric and air driven, e-type motors
Ergonomic design for a better grip of the instrument
Bayonet attachment system that allows to insert the hooks and / or son ends in a single gesture!
High frequency of micro-impacts (up to 20 movements per second) making it the fastest system in the world!
Unique! Operation without reset: keeps a continuous working axis
Intuitive intensity adjustment ring for controlled working comfort
Wide variety of inserts to answer all cases of prosthesis removal
Connects on any type of electric or pneumatic motor
Automatic crown and bridge removal
Instrument for the removal of fixed prostheses (unitary or plural).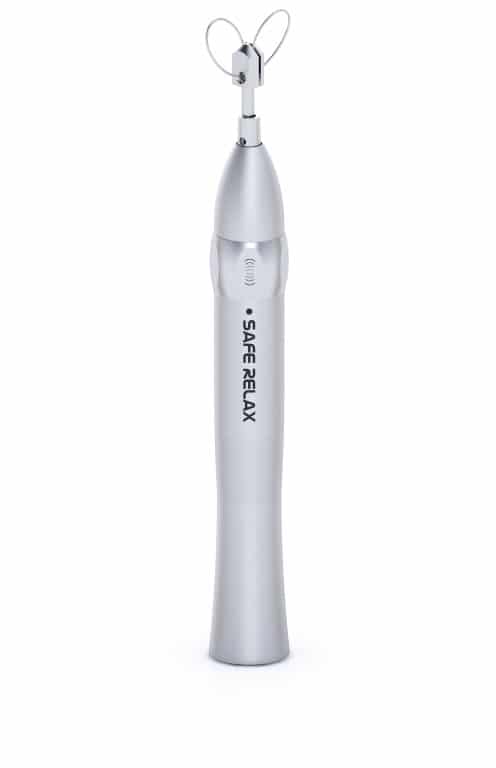 Universal standardized connection
Instrument adaptable on all types of engines and armchairs normed
ATD wire terminal system reducing the stresses on bridges
Excellent stability in use and reducing the risk of fracture of the prosthesis.
5 levels of progressive adjustments
Perfect control of the effort applied and preservation of prosthetic structure
Transformation of movements rotational micro-impacts
Less traumatic system for the patient and possible work in the optimal coronal axis in mouth.
SAFE RELAX

Standard motor connection

Minimum speed for the engine (rpm)

Maximum speed for the engine (rpm)

25,000 in 1,000 coups / min

Instrumentation connection

Anthogyr proprietary bayonet connection (see accessories)