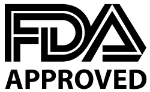 Root-Shaped Ceramic Implant with Internal Connection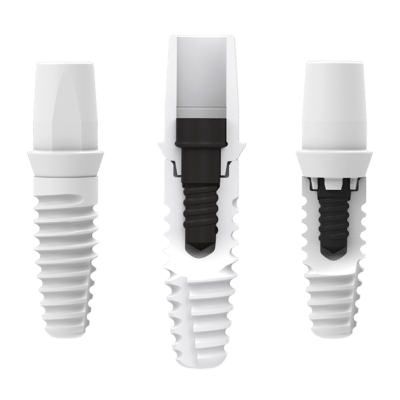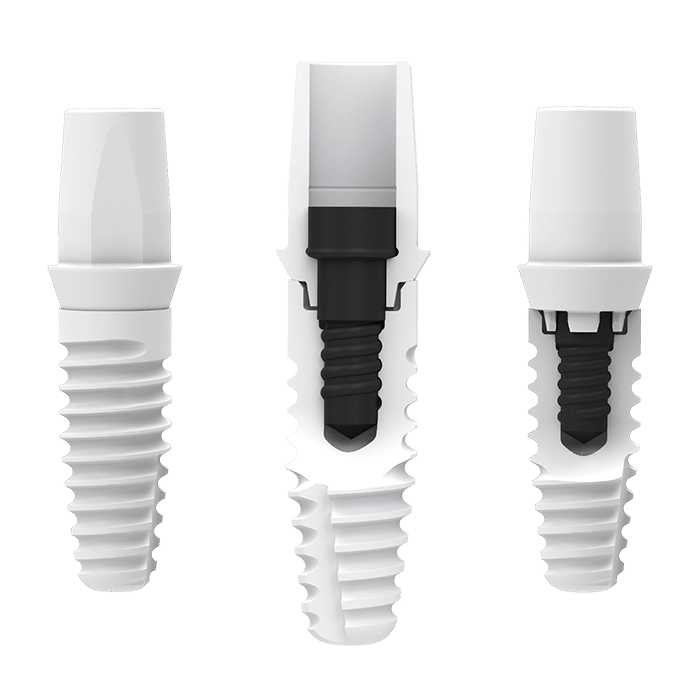 Tapered * Screw-Retained * Internal Connection * 100% metal-free

HIGH PRIMARY STABILITY
The thread design and  cylindrical-conical implant shape
achieve high primary stability. The reservoir for bone grafts at the tip of the implant simplifies implant insertion.
INTERNAL CONNECTION
The special geometry with the four tips enables high precision and fast and easy insertion and alignment of the abutment. The slightly beveled contact surface of the implant platform is designed to facilitate centering of the prosthetic components.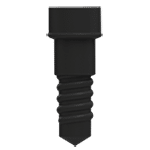 REDUCED DIAMETER VICARBO SCREW
One screw for two diameters. The XT Vicarbo Screw head diameter is a reduced 2.8mm. Length is 7.4mm and Tightening torque of 25Ncm.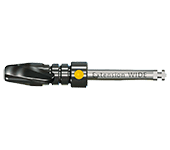 Biocompatible Tools
ZERADRILL™ Biocompatible reusable drills with
carbon coating. Precision designed for exacting geometry of the unique tapered shape.
ZERAMEX® XT Ceramic Implant System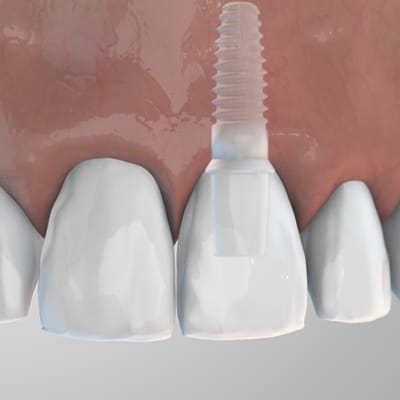 ​
General
The Zeramex XT dental implant belongs to the family of two-piece and 100% metal-free Zeramex ceramic implants. It offers maximum prosthetic flexibility, thanks to reversible screw-in connection and an unlimited range - particularly in the anterior area.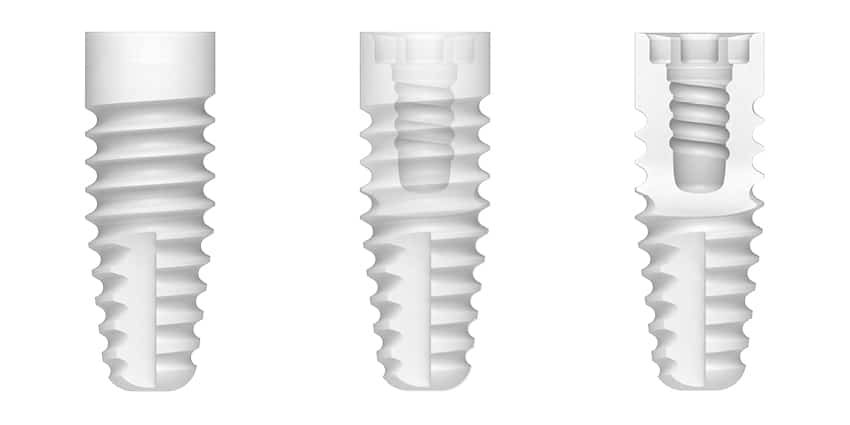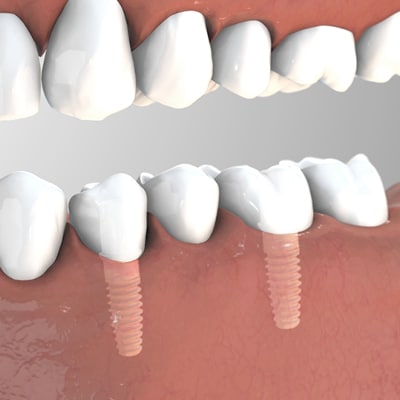 ​
Implants
The Zeramex XT ceramic implant offers three different platforms (SB / RB / WB) in lengths of 8, 10, 12 and 14 mm and is particularly suitable for anterior restorations, thanks to its small diameter and digital workflow. The Zeramex XT ceramic implant is placed 1.6 mm supracrestal, but can optionally be placed deeper (up to 0.6 mm supracrestal). The cylindrical-conical design of the implant thread was developed to achieve high primary stability. The reservoir for bone grafts at the implant tip simplifies the placement of the implant.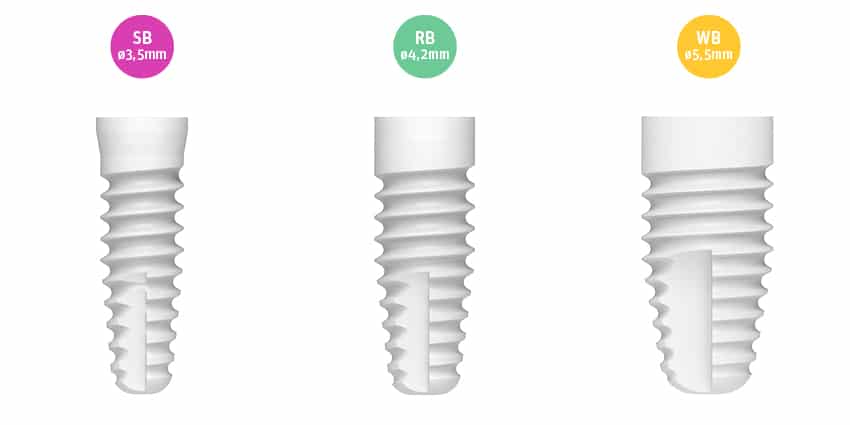 Manufacturing
The Zeramex XT ceramic implant is manufactured from hard zirconium oxide ATZ blanks manufactured by hot isostatic pressing. No thermal process (sintering) or post-processing takes place after the final shaping of the outer and inner geometry of the implant. This ensures that no further changes can occur in the material structure. This manufacturing process is very complex, requires a great deal of experience and expertise and enables a high shaping accuracy and precision in the manufacture of the implant. Do you require any further information regarding the Zeramex XT implant system? Click here for the user instructions:> Download user instructions free of charge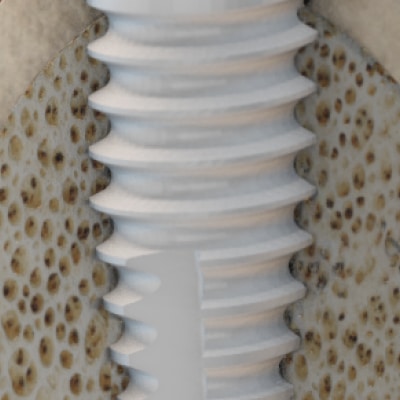 Surface​
The Zerafil surface is a micro-structured implant surface that enables decisive osseointegration of the dental implants. The success rate for the Zeramex XT implants used with the Zerafil surface is 98%, and bears witness to the decisive osseointegration thanks to an optimum surface structure.The hydrophilic implant surface Zerafil (surface treatment up to a collar height of 0.6 mm) is sandblasted and etched so that osteoblasts can grow directly up to the dental implant and firm adhesion to the implant surface can be achieved4.Clinical application of zirconia implants: Results from comparative studies, Dr Elisabeth Jacobi-Gresser > Download case documentation free of charge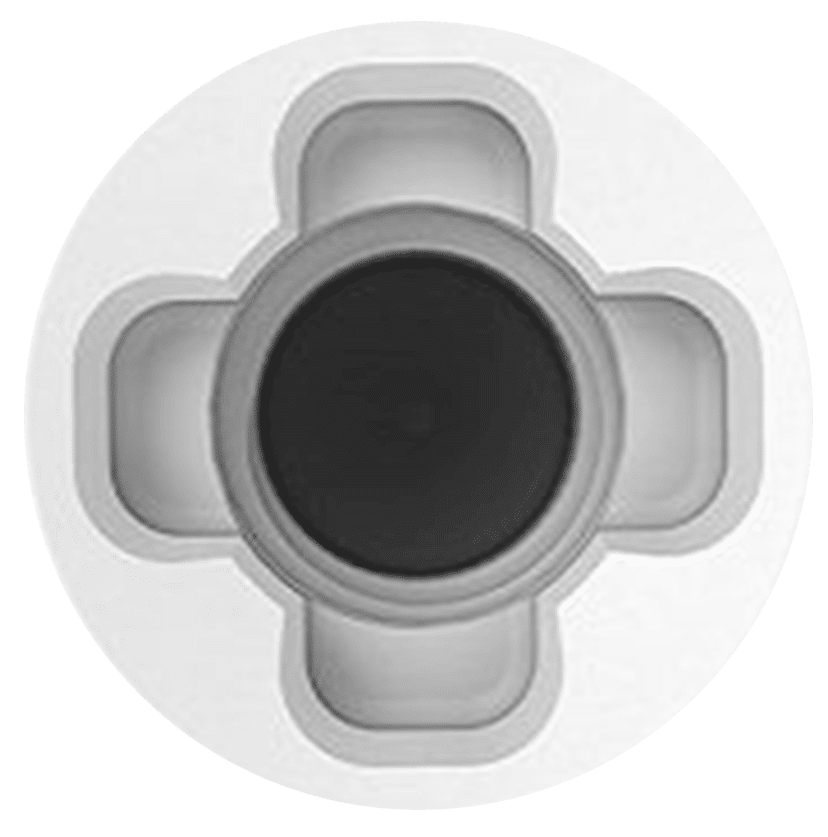 «Bolt-In-Tube» internal connection
The four cross-shaped retentive elements provide an ideal transmission of torque when inserting the implant, allowing the dental implant to be screwed into the bone without stress peaks. This unique internal connection ensures a precise and prosthetically flexible restoration.
Four tips for even more precision
The special geometry with the four tips enables high precision and fast and easy insertion and alignment of the abutment. All abutments are designed with the four tips, including the Zerabase and 'unengaged' Zerabase X abutments for bridge restorations.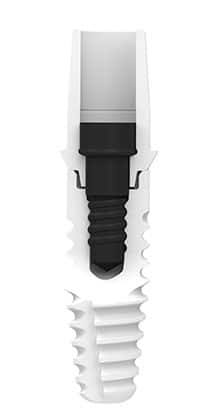 Vicarbo technology
The core of the connection is the Vicarbo screw. It works like a bolt, which anchors the abutment in the implant. The extremely hard ceramic is combined with a very stiff, carbon fibre-reinforced high-performance PEEK polymer. Similar to reinforced concrete, the ceramic absorbs the compressive forces, while the Vicarbo screw counteracts tensile forces.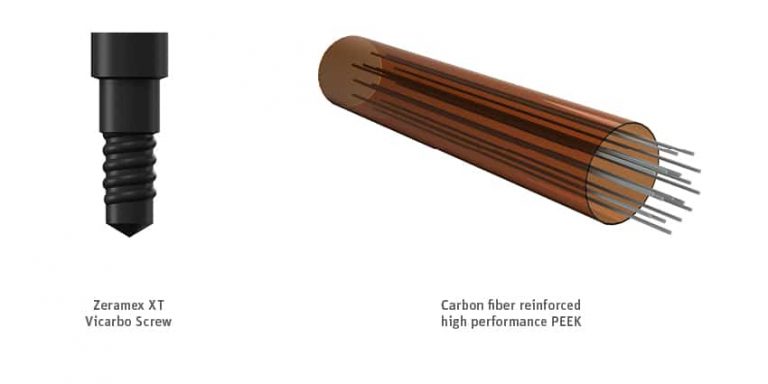 Soft Tissue Management
The ZERAMEX® healing cap, gingiva former and temporary abutment help to achieve the desired shape of the peri-implant soft tissue after the healing phase. The gingiva formers are available in two heights (3 mm/4 mm). The secondary temporary abutment made of PEEK allows individual temporary restoration.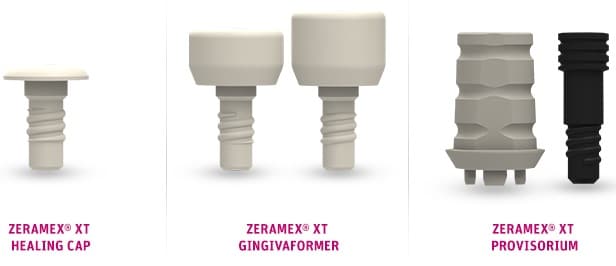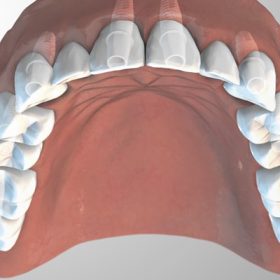 Restoration - standard
The range of metal-free prosthetics is extensive and satisfies the stringent requirements with regard to aesthetics and functionality. The Zeramex XT implant, in combination with its various standard abutments, is ideal for nearly every situation. The standard abutments are available for all three platforms (SB / RB / WB) with different shoulder heights and angles. The Zeramex XT implant system is used for the following indications:
Individual tooth restorations
Bridge restoration using several implants
Bar restoration using several implants
Removable restoration in combination with Zermex Docklocs® abutments
Telescopic restorations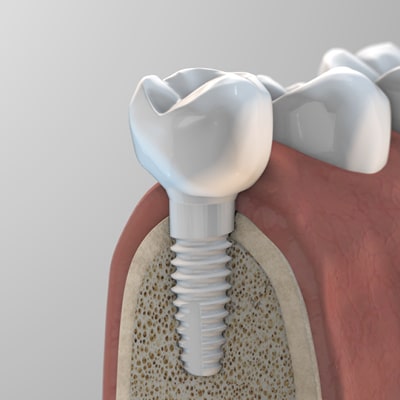 Restoration - adhesive base
Monolithic crowns and bridges can be made of various optimised plastics or zirconium oxide. By contrast, classic all-ceramic crowns and bridges are made of layering or pressed ceramic on a zirconium oxide cap.Different Zerabase abutments and a digital workflow make it possible to find the correct abutment in every case for an aesthetically demanding, 100% metal-free restoration.Zerabase X: The CADCAM alternative for laboratory and chairside
Shorter and more elegant design
Also enables larger angulations
Available for (SB / RB / WB)
Variable adjustment (engaged/unengaged)
Digital impression possible with Scanbody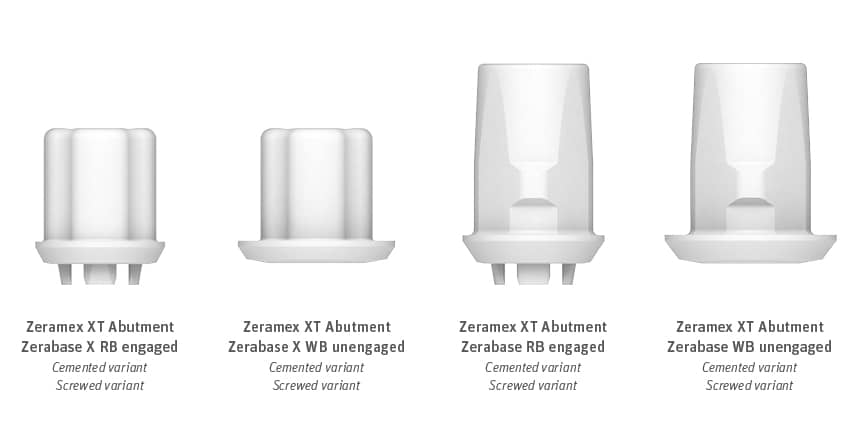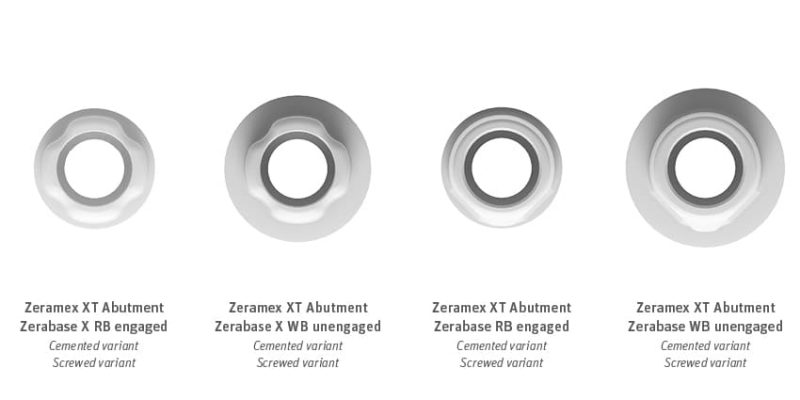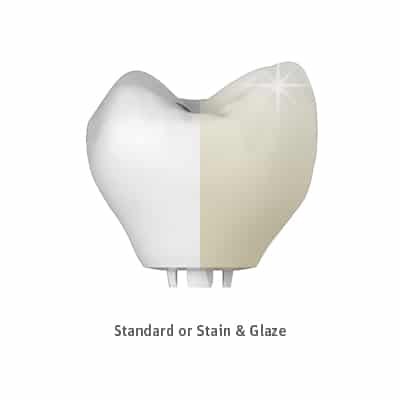 Restoration - individual (Zeramex Digital Solutions)
The Zeramex XT ceramic implant offers three different platforms (SB / RB / WB) and is particularly suitable for highly aesthetic anterior restorations, thanks to a digital workflow and individual abutments.Individual patient solutions at the click of a mouseWould you like to offer your patients highly aesthetic anterior restorations, or do you have narrow spatial conditions to deal with?
Fully individualised gingiva former and abutments
Fully individualised monolithic crowns and bridges
Compatible with exocad and 3shape software
Tried-and-tested quality, made entirely and precisely of zirconium oxide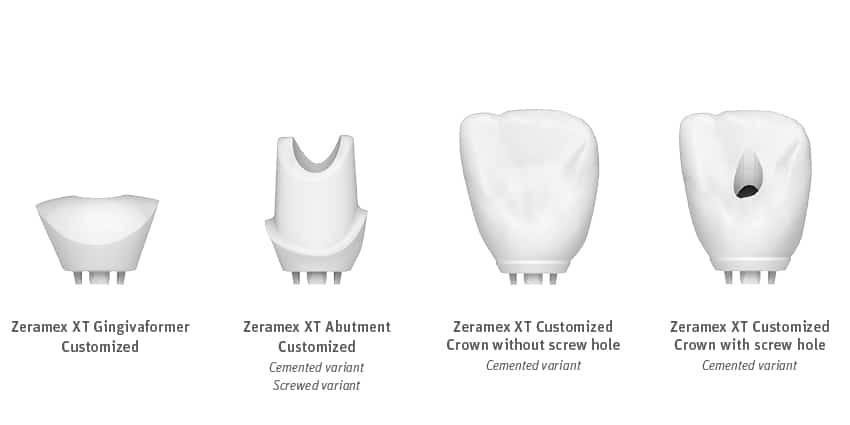 Processing and ordering – Learn more here
In addition to the production of customised abutments and monolithic crowns with Zeramex XT implant connections, the digital workflow from Zeramex offers you a service for processing your digital data or for the finishing of semi-finished blank restorations.
Individual ginigva former and abutments
Individual crowns in zirconium for Zerabase with or without screw holes
Monolithic crowns and bridges with implant connections (Cutback solution available)
Stain & glaze
3D models
The restorations can be ordered in the various Vita shades and in different translucencies – now also as multilayers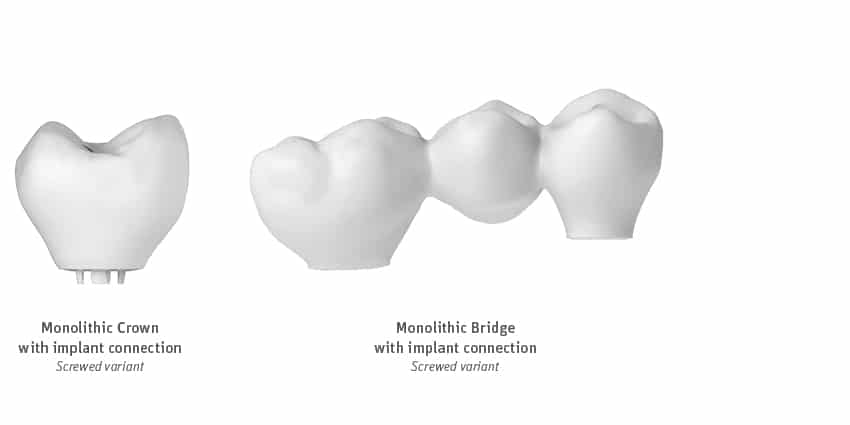 Single-tooth restoration using an all-ceramic implant solution: Inserting a two-piece implant in the anterior region, Dr Thomas Mehnert
> Download case documentation free of charge
Do you have any questions regarding digital workflow or individual abutments? The Zeramex Digital Solutions competence centre would be happy to provide you with further information.
Zeramex Digital Solutions 00800 0400 1333 [email protected]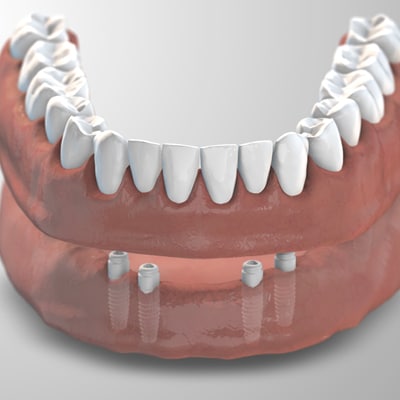 Restoration - Docklocs®
Zeramex Docklocs® is a pre-finished connection system to secure removable restorations based on a snap connection.Zeramex Docklocs® abutments are available in three sizes (2 mm/3 mm/4 mm) and fit to all platforms (SB/RB/WB).
SPECIAL OFFER - FREE SURGICAL KIT
10 XT IMPLANTS
1 FREE XT TAPERED SURGICAL KIT

CHOOSE ANY IMPLANT SIZING
20 XT IMPLANTS
1 FREE XT TAPERED SURGICAL KIT

CHOOSE ANY IMPLANT SIZING
50 XT IMPLANTS
2 FREE XT TAPERED SURGICAL KIT

CHOOSE ANY IMPLANT SIZING​