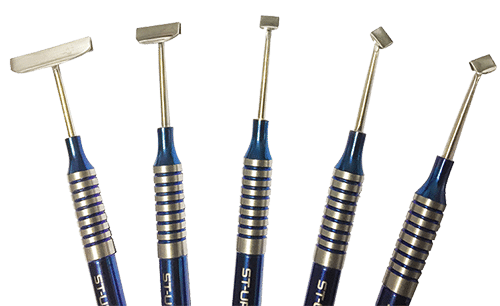 Choukroun Soft Brushing Kit
The Soft Brushing Release Kit takes the headache out of flap surgery, and increases your ability to gain primary closure. With the Soft Brushing Release Kit you can extend the flap without periosteal incision, up to 3cm. No bleeding. No Pain. No Inflammation.
Kit Includes 5 Brush Instruments:
Regular Tip 
Angulated Right Tip (Posterior)
Angulated Left Tip (Posterior)
Medium Tip
Large Tip
Implant Fixture Removal Kit
The implant fixture and fractured screw removal kits are the only kits you need to remove failed dental implants and fractured screws. Watch videos below.
Remove a fractured/broken screw and save the implant, or
Remove a failed implant while minimizing trauma to the bone.
Removal Kit includes: 3 Specialized Implant Remover Screws for all popular implant systems, 1 Remover Wrench for reverse torque,1 Hand Adapter, and 7 Trephines (for difficult combination cases, if needed)