Read more about Vicarbo Technology:
Digitization and implantology with ceramic implants is one of the fastest growing and most innovative areas in dentistry. Intensive research and further development in the areas of material properties and restorative care in particular, have led to implants made of zirconium oxide in addition to titanium implants, becoming a serious factor in dental implantology. Dentalpoint with the ZERAMEX® brand is considered a pioneer of "white implants" and launched the groundbreaking ZERAMEX® P6 innovation in March of 2015. A worldwide unique, 100% metal-free, two piece ceramic implant system with screw connection. The high connection strength required for such a system is achieved by carbon ceramic technology. The core is the Vicarbo screw made of carbon fiber reinforced high-performance PEEK. In the meantime, the further developed system ZERAMEX® XT has already established itself on the market. Representing Dentalpoint with its Zeramex brand, Pascal Wettstein, Head of the Research & Development Department, provides information on what an implant abutment compound is all about and what the future will look like in this matter.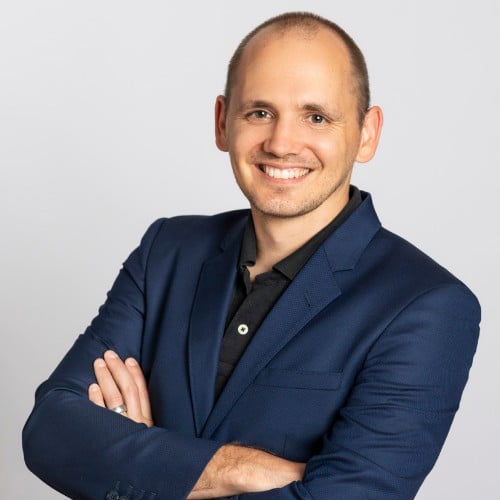 Pascal Wettstein is an experienced R & D engineer with a profound background in materials science. He has been with Dentalpoint since 2014 and part of the great pioneering work. Before joining Dentalpoint, Pascal Wettstein worked for several years as an engineer in the R & D department of renowned Swiss medtech companies.
Mr. Wettstein, ceramic implants are enjoying an upswing in the dental industry. With a current market share of 2-3%, it is predicted that ceramic implant systems will enjoy a market share of up to 25% by 2022. Dentalpoint is a pioneer in this upswing. With what innovation has the ZERAMEX® brand revolutionized dental implantology?
PWE: Historically, in the past, people had a choice between a one-piece and a two-piece bonded implant system, and that's where ZERAMEX® started. However, we quickly realized that, for reasons of prosthetic flexibility, a two-prosthetic solution is needed. In implantology with titanium implants, virtually no one-piece systems are used anymore, as these are not easy to supply. So our task was clear that even in metal-free implantology you have to offer a system that is reversibly screwed. We were the first to launch a 100% metal-free and two-piece ceramic implant system that is reversibly screwed. This is the great innovation of Zeramex.
The ZERAMEX® systems are known for Vicarbo, a carbon fiber ceramic technology. Why did you choose the material carbon fiber at ZERAMEX®? What are the properties of this Vicarbo technology?
PWE: Fiber composites and especially carbon fiber composites have very special material properties. They have a very high tensile strength (about twice as high as e.g. titanium grade V) and stiffness, they are chemically resistant and they are anisotropic due to the fibers. This means that in the fiber direction you have different properties than transversely. This can be taken advantage of by controlling the fiber course or placing it in the main load direction(s). 
A classic example is the bicycle fork made of a carbon fiber composite: it is designed to react elastically to longitudinal loads so that it can optimally cushion impacts, etc. Cross or on torsion it is very stiff, as this massively improves the handling of the bike. With an aluminium fork, it is not possible to control the properties in this mass, as this is an isotropic material (the properties are broadly the same in all directions). 
These excellent mechanical properties, combined with low weight, have led to this material being established in a wide range of high-tech industries such as aviation (A380 and Boeing 787), aerospace and racing. 
We also make use of the above-mentioned properties. In this way, we build the screw through the process control in such a way that the main fiber curve lies in such a way that it can withstand high mechanical loads on torsion and pull. The combination of a relatively soft screw with the very hard ceramic also allows us to produce the screw in a slight excess. The screw then nestles in the ceramic thread. This results in a sealing effect. The matrix material in our case is PEEK, which has a long tradition in medical technology.