Benefits of Choosing Synthetics for Bone Grafting Procedures
It is important to have the right bone grafting materials for your practice. It ensures higher revenue, decreased practice costs, improves the surgeries outcome and also experience a happier and more satisfied patient because their implant was a success.
No risk of disease contamination
Increased revenue for your practice
High success rate
Easily attainable and available
Easy to use in surgeries
Has the ability to heal minor defects on its own
Tailored resorption profiles available depending on the surgical need
Purest Synthetic Bone Graft
Cerasorb M delivers the purest form ß-TCP available in the world.
99% Purity – The international standards group ICDD uses curasan ß-TCP as a worldwide standard
Cerasorb® M provides maximum porosity for better resorption in bone grafting procedures
CERASORB M is resorbed from both outer and inner pore surfaces, allowing resorption at the same rate of new bone formation.
Osteoconductive producing an Optimal microenvironment for osteoblast adhesion
Exacting production standards result in a pure phase ß-TCP that has become the industry standard (IDDC). Higher levels of purity ensure that the body doesn't have to process impurities before beginning the healing and regeneration process.
Resorbable Osseostimulation
CERASORB M is completely resorbed while simultaneously creating new bone formation!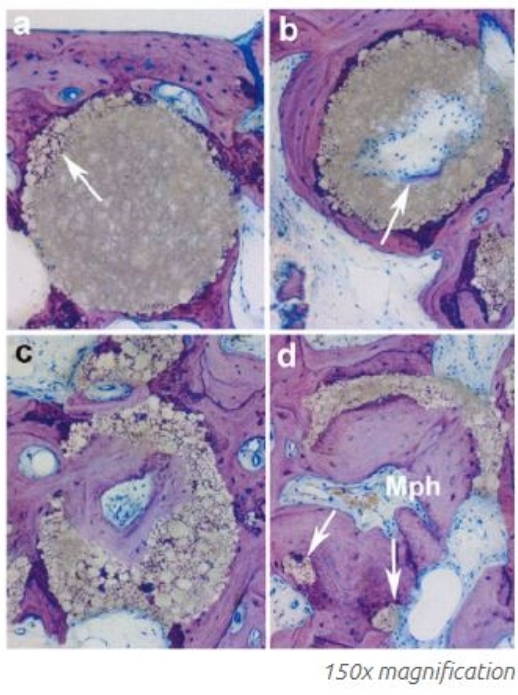 Different stages of absorption and remodeling
Granule completely surrounded by lamellar bone tissue
Osteoclasts starting the resorption process along outside margin of granule
Resorption from inside to outside: osteoblast bone-building activity within center of granule
Resorption from outside to inside: central building of osteons
New bone formation, containing osteocytes, throughout former defect site with no fibrous tissue formation. Residual CERASORB fragments remain, with osteoblasts still actively mineralizing the margins.