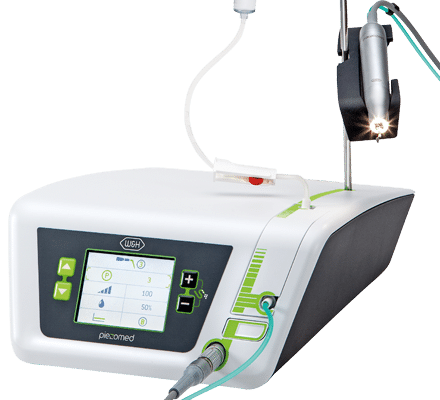 Still the force in bone surgery
Piezomed puts all the advantages of innovative ultrasound technology at your fingertips: High-frequency microvibrations allow cutting with incredible precision. In addition, with the so-called cavitation effect you can also ensure an almost blood-free surgical site.
Minimally invasive, maximally effective –
Ultrasound technology in oral surgery
Piezomed facilitates the surgeon's and implantologist's work: thanks to innovative ultrasound technology, only bone substance is resected with high precision. The surrounding soft tissue remains uninjured. A noticeable relief for the patient: less pain, quicker healing!
Foot Control SN-1 07004400
SA-320 Piezomed 1.8m 30078003
Price: 6,250.00 USD
$2,398.25 in savings!
Wireless Foot Pedal Package
Bluetooth Wireless Foot Control 30264001
SA-320 Piezomed 1.8m 30078003
Price: 6,550.00 USD
$2,614.25 in savings!
Consists of –
control unit
foot control (Wired/Wireless option)
handpiece with 1.8 or 3.5 m cable and clips
irrigation tubing set
mains cable
motor support
stand
instrument changer
sterilization cassette
instrument kit "Bone"
Both packages include –
Two extraction tips (07173500)
B7 saw (05534700)
S2 diamond ball (07022600)
two tips for the sinus "bump" Z25 (07785600) + Z35 (07980600)
Automatic instrument detection
Three individual operating modes
Temporary 20 % power increase thanks to boost function
Ideal illumination of the operating field thanks to LED ring illumination
Efficient cooling thanks to spray opening close to the instrument's working area
Handpiece with LED socket and cable, thermo washer disinfectable and sterilizable
| Type: | SA-320 |
| --- | --- |
| | 100 – 130 V or 220 –240 V |
| | |
| | |
| | |
| Coolant flow rate at 100 %: | |
| Length of handpiece cable: | |
| | |
| | |

World first! Automatic instrument detection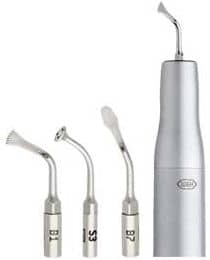 Automatic instrument detection in oral surgery
As soon as an instrument is inserted, Piezomed automatically detects the instrument and assigns it to the correct power class.This not only facilitates operation but also increases safety in oral surgery. In addition, the risk of overloading the instruments is reduced and the service life of your surgical instruments considerably extended!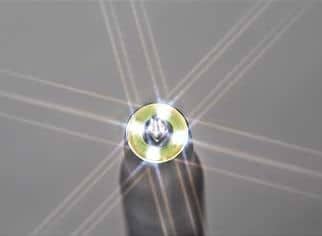 Innovative LED ring
The shadow-free light ensures ideal illumination of the operating site.The handpiece with LED socket and cable can be thermo washer disinfected and sterilized.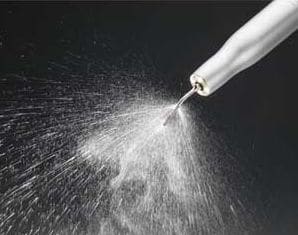 Cooling right where it is needed
The supply of coolant through the instrument to near the operating point guarantees optimal cooling of the instrument and the hard tissue.The spray exits near the instrument's area of activity and cools the operating site extremely efficiently during maxillofacial applications.

Individual Performance Setting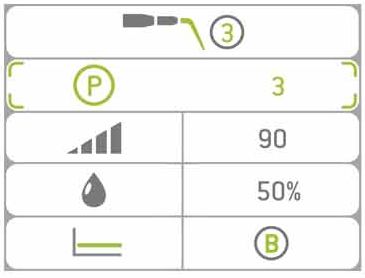 Individual performance setting for oral surgery
Piezomed detects the instrument during insertion and sets the correct power class automatically.The power can be changed manually within the detected power class.

Individual operating modes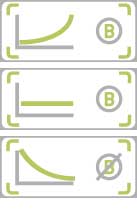 Piezomed adapts to your style of working
Piezomed adapts to your personal way of working and saves your last selected settings. The boost function can be used to increase the set basic power by 20 % for a short period of time

"Power" operating mode: The handpiece's power is increased by increasing pressure on the instrument. (Boost function possible)

"Basic" operating mode: The handpiece power remains the same irrespective of the load on the instrument. (Boost function possible)

"Smooth" operating mode: The handpiece's power is reduced by increasing pressure on the instrument.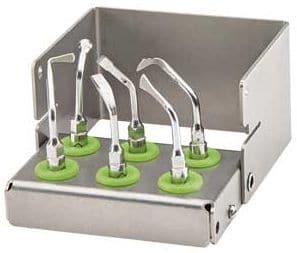 Flexibility and individuality in working for oral surgeons
With its range of 33 innovative instruments, W&H offers you the right instrument for bone surgery, periodontology and extraction, retrograde endodontics as well as for lateral sinus lift.