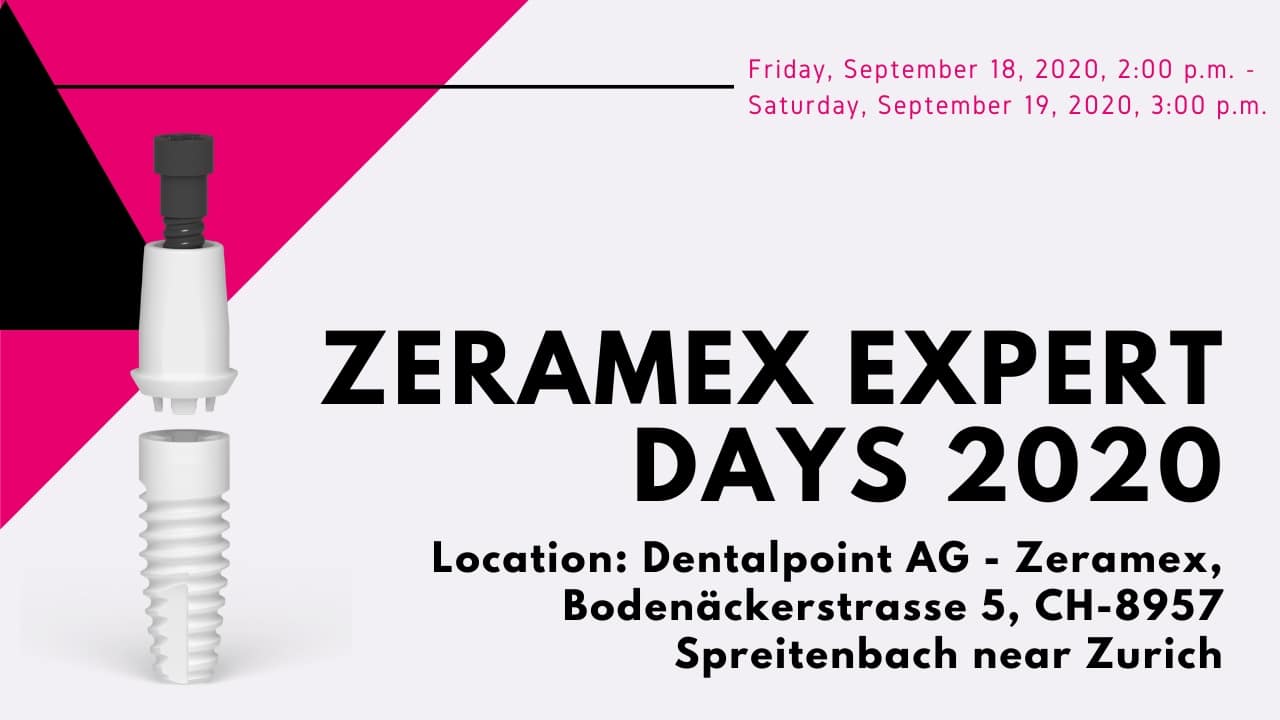 Date
Sep 18 - 19 2020
Expired!
ZERAMEX Expert Days 2020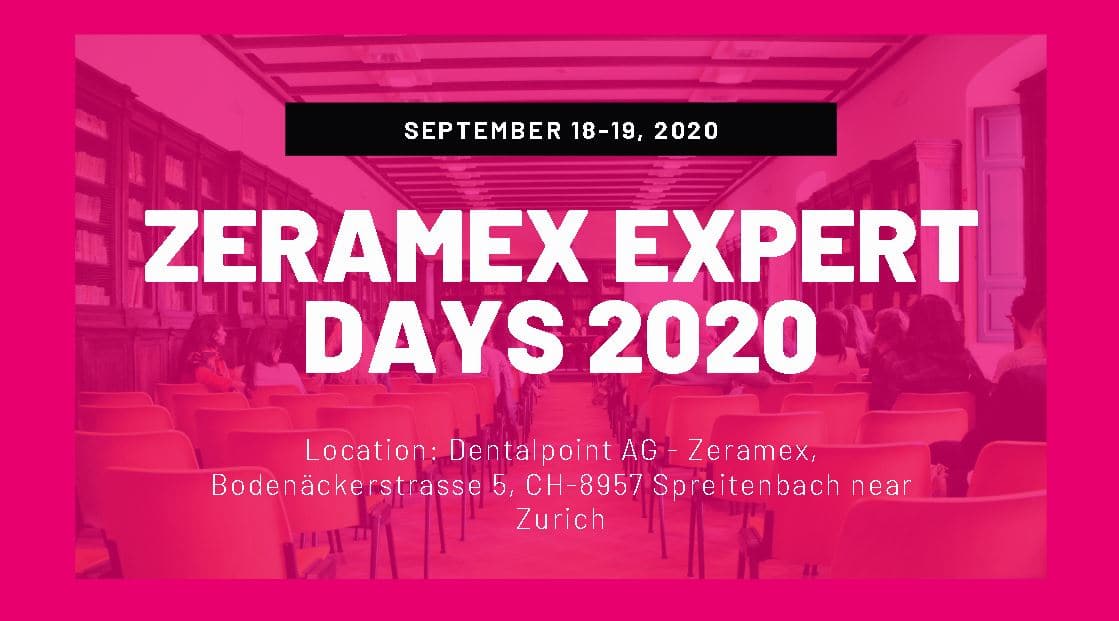 Date & Time
Location
Hotel
Price
Program & Training Hours
Date & Time
Friday, September 18, 2020, 2:00 p.m. – Saturday, September 19, 2020, 3:00 p.m.
Location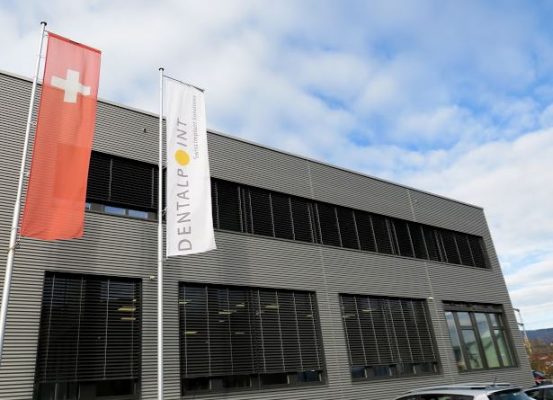 Dentalpoint AG – Zeramex, Bodenäckerstrasse 5, CH-8957 Spreitenbach near Zurich
Hotel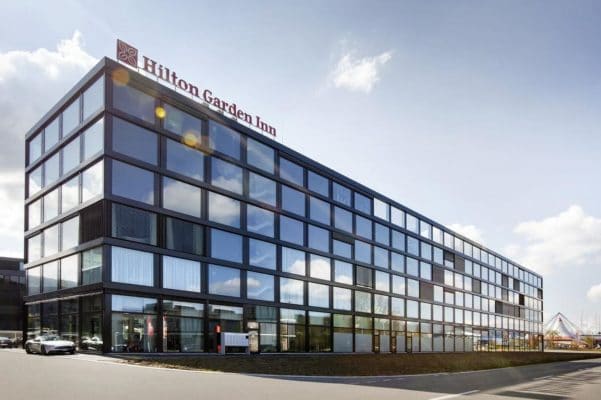 Hilton Garden Inn Zurich Limmattal, Kreuzäckerstrasse 5, CH-8957 Spreitenbach near Zurich
Price
EUR 390.- / CHF 430.- (including hotel & meals)
Program & Training Hours
Allergies, intolerance and the desire for high aesthetics - the demand for ceramic implants is increasing!
Do I have to offer ceramic implant systems in my practice? And if so, for what? How does that fit into my practice concept? What do my patients get from it? What do I have to invest?
If you are dealing with these or similar questions, then our Expert Days is the right place for you. Meet experienced users and learn about the advantages of Zeramex implants. Make up your own mind and have a say!
No compromises - benefit from the particularly high prosthetic flexibility.
Most of the new generation ceramic implant systems lack the flexibility you are used to from your implant system and which you do not want to do without in everyday practice. The advantages of ceramic implants are often reduced to the material zirconium dioxide and compromises in design or handling are accepted.
That is not enough for us! At Dentalpoint, we have made it our task to identify gaps in application in order to build the Zeramex implant system as a unique and 100% metal-free system. Experience Zeramex live. Our team shows you the possibilities of Zeramex, news about the systems and leads you to the heart of our success: our in-house production with the latest technology and corresponding current quality standards – Made in Switzerland.
The Expert Days 2020 - an event "Made in Switzerland"
Your visit to our headquarters in Spreitenbach is rounded off by a cozy evening in a typical Swiss ambience and local delicacies. Time to enjoy and network.
And wherever you are, stay over the weekend and bring your partner with you! Enjoy Zurich and its surroundings with an optional overnight stay at the Hilton Garden Inn Zurich Limmattal.
We are looking forward to your visit!
Curriculum vitae:
1978-1983 – Studied dentistry at the University of Jena and at the Dresden Medical Academy
1983 – 1988 – Specialist dentist training at the Clinic for Oral and Maxillofacial Surgery / Aesthetics and Reconstructive Surgery, Klinikum Chemnitz GmbH in Chemnitz
1988 – Specialist in maxillofacial surgery
1988 – 1989 – Head of the maxillofacial surgery department of the polyclinic at the Chemnitz Clinic
1989 – 1992 – Senior Physician of the Department of Oral and Maxillofacial Surgery St. Lukas Klinik Solingen
1990 – 1991 – Studied medicine at the Dresden Medical Academy
1991 – Doctorate in Dr. med., University of Mainz
1992 – Specialist in oral and maxillofacial surgery
1992 – Branch in own practice with an extra bed department at the Evangelical Hospital Cologne / Kalk
1993 – Additional designation "plastic operations"
1999 – Certification focus on "implantology"
2000 – Doctorate in Dr. med. dent., University of Cologne
Since 2002 – Consultant for implantology
Memberships in scientific associations:
German Society for Oral, Maxillofacial and Facial Surgery "- DGMKG
German Interdisciplinary Working
Group for Cleft Lip and Palate / Craniofacial Anomalies (German Cleft Palate Craniofacial Association –GCPA) www.ak-lkg.de
German Society for Implantology in the Tooth, Mouth and Jaw Area "- DGI
European Society for Ceramic Implantology (ESCI)
ZERAMEX®XT has a tapered design allowing optimal primary stability. The internal connection has been specifically engineered to maximize the strength of rigid zirconia and eliminate any lateral forces on zirconia.  
The precise fitting components offer variable placement close to bone level for enhanced restorative margin. The heart of the connection is the VICARBO® screw. Comprised of many individual threads of carbon fiber that run vertically, uncut down the length of the screw to durably absorb the tensile forces and give the VICARBO® screw its exceptionally high strength.
Learn more about this Metal-free ceramic dental implant by CLICKING HERE.