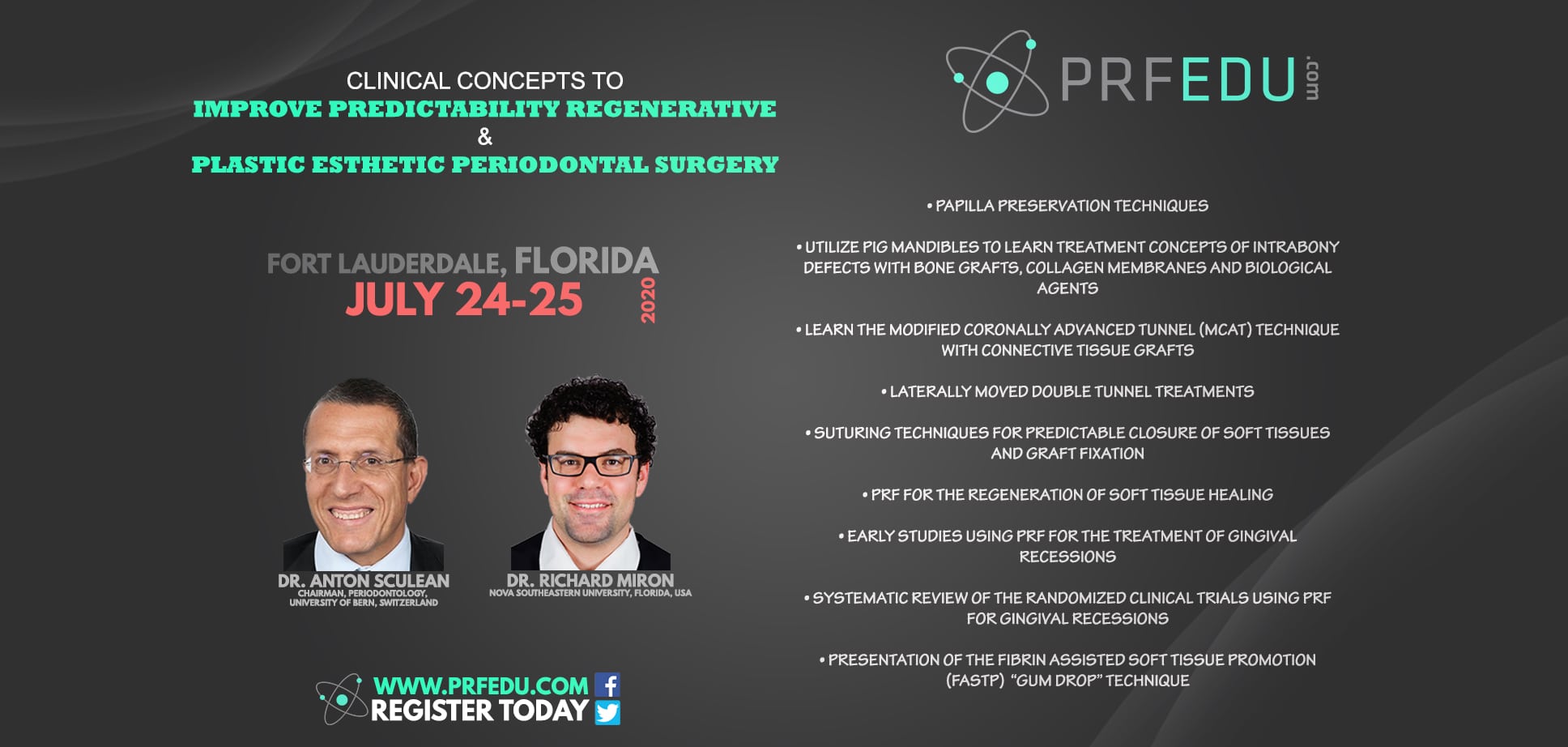 Date
Jul 24 - 25 2020
Expired!
Clinical concepts to Improve Predictability Regenerative & Plastic Esthetic Periodontal Surgery
Course Location: Nova Southeastern University: 3424 University Park Plaza (BLDG 3400,  RM #113) Davie, FL 33328
Partnering Hotel: Renaissance Fort Lauderdale-Plantation Hotel. 1230 S Pine Island Rd, Plantation, FL 33324
This course addresses general dentists and periodontists who intend to learn more about the use of regenerative and esthetic procedures in periodontology.
Advances in cell and molecular biology have contributed to increased understanding of wound healing of various tissues, and revealed a great complexity of processes involved. In general, the outcome of wound healing can be characterized either as repair, i.e. scar tissue formation that differs in form and/or function from the original tissues, or regeneration, i.e. form and function of the lost tissues is restored. A large body of evidence has established that polypeptide growth and differentiation factors, natural biological mediators critical to development of tissues and organs, may support wound healing/regeneration creating an environment conducive to and/or immediately inducing de novo tissue formation.
The better understanding of the biology combined with improved surgical techniques yielded to clinical concepts enabling predictable treatment outcomes in intrabony and furcation defects. Recently, the use of biological active molecules such as enamel matrix proteins in conjunction with innovative surgical techniques such as the Modified Coronally Advanced Tunnel (MCAT) with or without connective tissue grafts or collagen matrices has been proven a predictable technique to treat single and multiple gingival recessions and to correct various types of soft tissue defects around teeth and dental implants, improve tissue thickness and avoid scar tissue formation. Presentation of clinical cases, schematic drawings and video presentations will demonstrate the clinical applications of various techniques to achieve periodontal regeneration and improve esthetic outcomes.
To present treatment concepts aiming to predictably obtain periodontal regeneration in intrabony and furcation defects.

To present treatment concepts aiming to predictably obtain root coverage of single and multiple recessions and to correct soft tissue defects at dental implants.

To teach the optimal flap design and suturing techniques in regenerative surgery at intrabony and furcation defects.

To teach the Modified Coronally Advanced Tunnel (MCAT) using subepithelial connective tissue grafts, soft tissue replacement grafts with or without biological active molecules for predictable coverage of multiple gingival recessions by using specially developed tunnel instruments.

To introduce adjunctive growth factors capable of inducing periodontal regeneration including enamel matrix derivative (Emdogain) and platelet rich fibrin (PRF) as regenerative modalities for soft tissue regeneration.

To describe the clinical indications for when to utilize each regenerative modality in various clinical settings.
Presentation of a critical overview on the available regenerative materials and of biologically based treatment concepts for obtaining predictable outcomes in intrabony, furcation and recession defects. Presentation of new data on the treatment of recession defects around dental implants.  
Practical part: exercises on animal models (pig mandibles)
Treatment of an intrabony defect using bone grafting material and collagen membrane with or without biologic agents

Papilla preservation techniques and single buccal flap to maximize the outcomes

Treatment of a furcation defect using bone grafting material and collagen membrane with or without biologic agents

Modified Coronally Advanced Tunnel (MCAT) using connective tissue grafts, collagen based soft tissue replacement grafts with or without biological active molecules for recession coverage

Laterally Moved Double tunnel for the treatment of single deep recessions

Suturing techniques for flap predictable closure

Connective tissue graft harvesting

Suturing techniques for graft fixation

Suturing techniques for coronal flap advancement and fixation