100% metal-free ceramic implants

---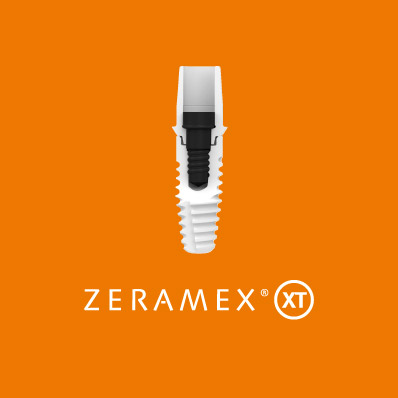 The ceramic implant impresses with its high prosthetic flexibility.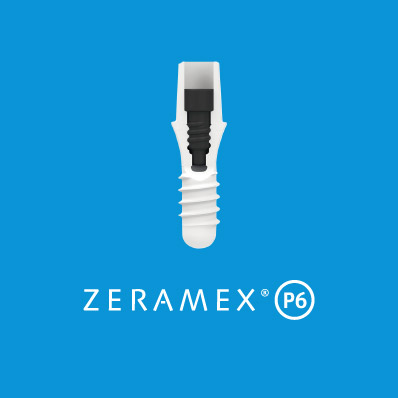 The ceramic implant with particularly simple and efficient procedures.
---
Flexibility and compatibility
Ceramic implants from ZERAMEX® have many advantages over conventional dental implants.

Strong
> STRENGTH YOU CAN RELY ON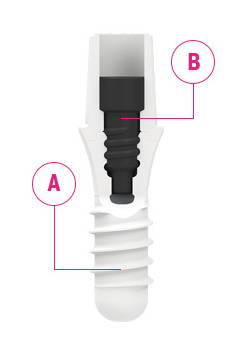 The new generation of ZERAMEX® ceramic implants set themselves apart by their very high material strength.
The implant and the abutment are made of highly compressed zirconium dioxide blanks and meet the high requirements for strength, biomechanical stability and accuracy of fit. ZERAMEX® ceramic implants are also corrosion resistant and do not conduct electricity or heat.
> A STRONG, METAL-FREE CONNECTION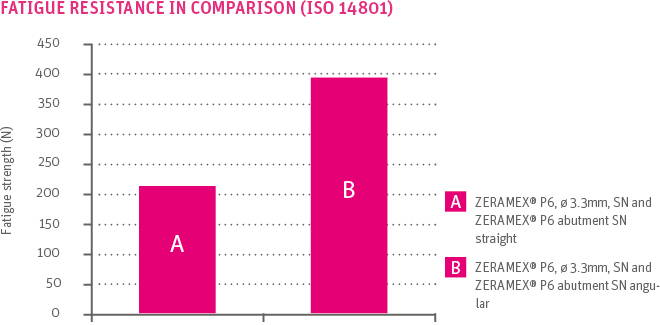 A high-strength and form-fit, absolutely stress-free, screwed ceramic-ceramic connection is created using the carbon fibre-reinforced VICARBO® screw.
The design of the connection was developed to minimise bacteriological colonisation or deposit.
> HIGH-PERFORMANCE CARBON TECHNOLOGY VICARBO®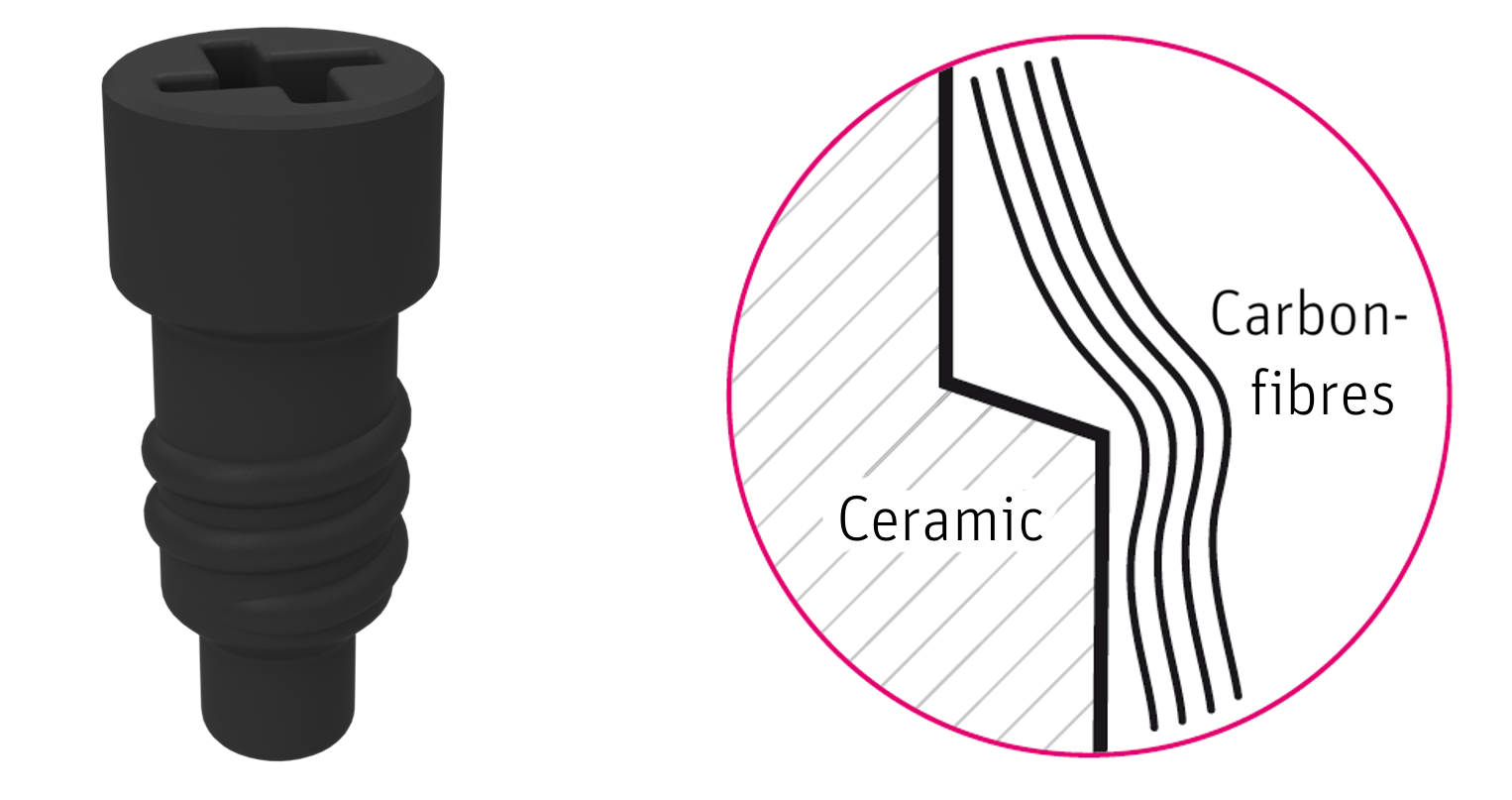 High bonding strength is achieved with the new carbon-ceramic technology. The core is the VICARBO® screw made of carbon-fibre-reinforced high-performance threads.
It is distinguished by enormous isoelastic properties and has clear strengths: metal-free, biocompatible according to ISO10993 for long-term implants. Modulus of elasticity: >160 GPa., tensile strength: 2.000 MPa.[82] (Comparison: Titanium grade 5: Modulus of elasticity: 114 GPa., tensile strength: 1,100 MPa.[83])
The continuous carbon fibres modified to suit the shape durably absorb the tensile forces and give the VICARBO® screw its high strength.
Relative tensile strength of VICARBO rod and Alternative Implantable Materials
(all values according to manufacturer's specifications)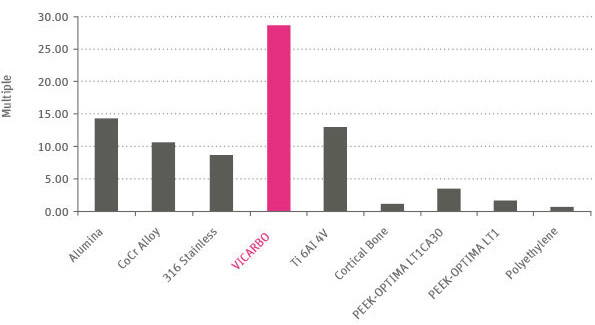 Aesthetic
> WHITER THAN TITANIUM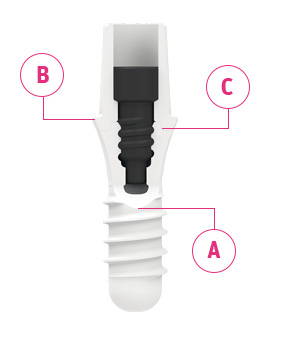 The 100 percent metal-free ceramic implants come very close to the natural model of a tooth root in BOTH aesthetics and function.
They are highly biocompatible, completely free of metallic corrosion and conduct neither electricity nor heat. Titanium can release titanium ions that can accumulate in the surrounding soft tissue and cause inflammation.[8] When exposed to surface bacteria the corrosion resistance of titanium can also be reduced.[13] These effects are completely excluded by using metal-free implants.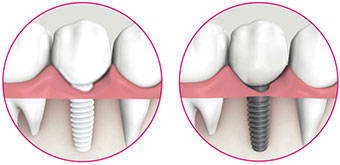 Situation after gingival recession.
Restoration with ZERAMEX® (left) Restoration with a conventional titanium implant (right)
No dark shadows

No shimmer through of the dark implant

No visible metal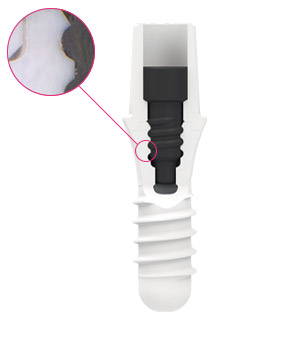 The two-part, reversible screw design enables the ZERAMEX® dental implant to offer a wide prosthetic flexibility while remaining a simple and clear system.
Work with the usual procedures and offer all-ceramic, screw-retained restorations. With the upcoming integration into the Exocad and 3Shape CADCAM systems, you will also benefit from the advantages of a digital workflow.
> OPTIMUM BLOOD CIRCULATION THROUGH THE GUMS
The blood circulation in the gingiva around zirconium dioxide is comparable to that around a natural tooth, while blood circulation in the gingiva around titanium is significantly lower.[6]
The low deposit of plaque simplifies hygiene for the patient and promotes inflammation-free gums.[12]
Metal-free
> MAKE THE RIGHT CHOICE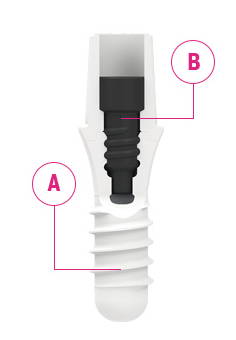 Various studies show the very good osseointegration and positive long-term results of ceramic implants.
The case study of Oliva[9] shows successful 5-year data, Manzano[10] concludes that there is no significant difference in Bone Implant Contact (BIC) between titanium and ceramic implants. Very good osseointegration of the ZERAFIL™ surface was documented with the ZERAMEX® system and a success rate of approx. 98% was reported.[4] The research group of Prof. A. Mombelli could not detect any peri-implant infections after three years (ZERAMEX® T).[11]
> MINIMIZING RISK FACTORS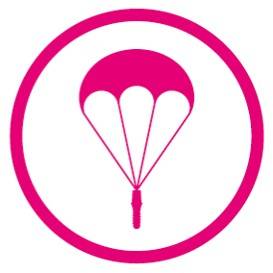 Long-term studies show that peri-implantitis is a risk of implant treatment.[3]
Peri-implantitis can lead to loss of the implant if not treated. The ZERAMEX® implant can help to minimize certain risk factors of peri-implantitis:
Plaque[15]: Low plaque affinity of ceramics[12]
Metallic corrosion[7],[13]: There can be no metallic corrosion with ceramics
> CONCLUSIVE OSSEOINTEGRATION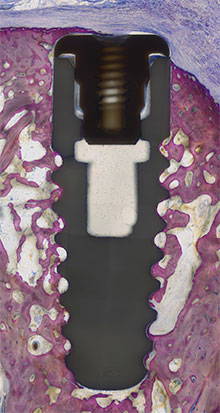 The surface structure is optimized by sandblasting and etching so that osteoblasts can grow directly on the implant and a firm adhesion to the implant surface can be achieved.
Sectional view after 8 weeks: convincing osseointegration of the implant with the ZERAFIL™ surface on ATZ ceramics. Research Group Prof. D. Buser, University of Bern, Switzerland.[1]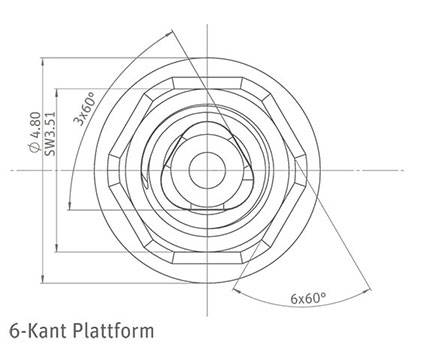 In practice, the screw-retained, two-piece ZERAMEX® implant has proven to be an easy and efficient ceramic implant to work with.
It is placed in a similar way to titanium implants. ZERAMEX® is offered with its own instrument kit. A special transfer part (pickup) for insertion and a prosthetic key are required.
Easy abutment positioning
The secure rotation protection and positioning of the abutment is safe and easy.

The high-strength zirconium dioxide abutment (ZrO2-ATZ-HIP) lies precisely on the implant shoulder.
> 100% METAL-FREE SOLUTION FOR LONG-TERM SUCCESS
100% metal-free ceramic solution: The implant, abutment and screw are metal-free.

High natural restoration in terms of aesthetics, compatibility and longevity, similar to that of the natural tooth.

All-ceramic has long been used as standard in prosthetics and abutments.
Carbon-ceramic technology
With ZERAMEX® you can rely on completely metal-free dental implant systems, whose benefits have been demonstrated in countless studies.