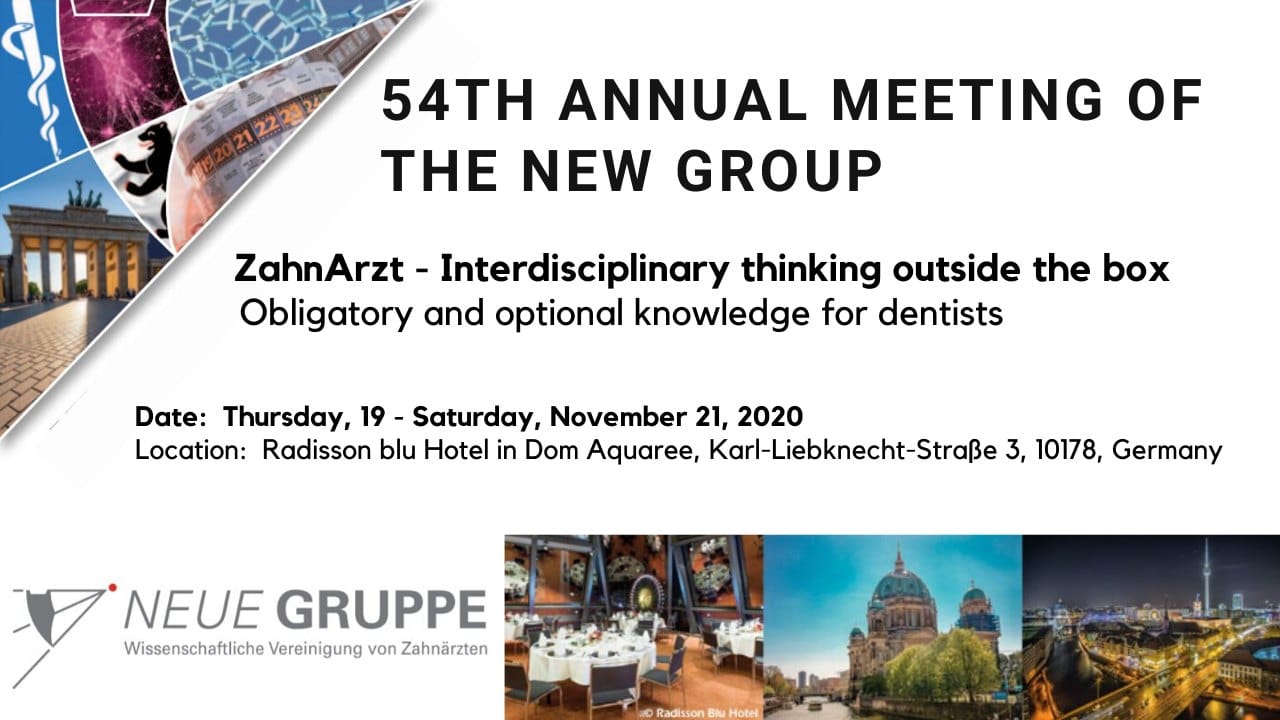 Date
Nov 19 2020
- Nov 21 2020
NEW GROUP – 54th Annual Meeting 2020
Event Date
Location / Hotel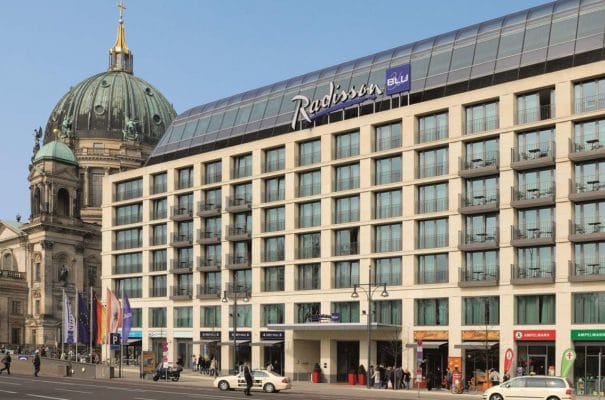 Radisson Blu, Berlin
Address: Karl-Liebknecht-Str. 3, 10178 Berlin, Germany
HOTEL
Under the keyword "NEW GROUP" you can call up rooms from a limited number of rooms in the Radisson blu Hotel in the Dom Aquaree :
Tel .: +49 30-238283500,
e-mail: [email protected]
Online: www.radissonblu.com / de / hotel-berlin
with promotion code: "Annual Conference"
SR: from 165
€ incl. breakfast
DR 183 € incl. breakfast On-call deadline: 09/12/2020 thereafter subject to availability
Participation Fee
COSTS
PRE-CONGRESS – 11/19/2020
If you register by August 1st, 2020
members, candidates, members cooperation partners (with proof), dentists up to 3 years after approval (with proof) € 290
non-members€350
inactive MG, youngster NG, students ( with ID) 220, – €
after
members, candidate 390, – €
Staff Counterparts (with proof), non-members 420, – €
Dentists to 3 years after approval 390, – €
non members 420, – €
Inactive MG, Youngster NG, students ( with proof) € 290
CONGRESSES – November
20-21, 2020 When registering by August 1st, 2020
Members, candidates, members Cooperation partners (with proof) 590, – €
Dentists up to 3 years after approval (with proof) 490, – €
non-members 690, – €
Inactive MG , Youngster NG, students (with ID) 350, – €
Day ticket Friday or Saturday Fr. 420, – €
after
members, candidate 690, – €
Staff Counterparts (with proof) 790, – €,
dentists to 3 years after approval (with Proof) 590, – €
non-members 790, – €
inactive MG, Youngster NG, students (with proof) 450, – €
day ticket Friday or Saturday Fr. 420, – €
Team event November 20-21, 2020
2-day ticket 269, – €
day ticket Friday or Saturday Fr. 169, – €
prices including lunch, snacks and drinks
SOCIAL PROGRAM
Welcome Reception
11/19/2020
tickets à 120, – €
incl. Food and drinks
Festive evening
November 20, 2020:
Tickets at € 160
incl. Menu, drinks and entertainment
Dentistry is not a dental-technical craft, but a scientific specialty in medicine. Our responsibility is not limited to the oral health of our patients, but encompasses – insofar as it is possible – the overall well-being of the people entrusted to us. That is why the title is 2020 Dentist, because we are not artisans or dentists, but dentists with certainly exceptional manual skills.
Therefore, on behalf of the NEW GROUP, I would like to invite you to an interdisciplinary "look outside the box of dentistry" this year. Outstanding speakers from various medical and dental specialties will give you the current obligatory as well as the optional knowledge of your specifications in a condensed form and with discuss us.
The changes in our society are also creating increasingly difficult and complex framework conditions for us dentists. These developments in society as a whole need to be analyzed and discussed in order to be able to react appropriately to changes.
Berlin, a city of infinite possibilities is definitely a "worth the trip" – even if it should not be the first time.


ZERAMEX®XT has a tapered design allowing optimal primary stability. The internal connection has been specifically engineered to maximize the strength of rigid zirconia and eliminate any lateral forces on zirconia.  
The precise fitting components offer variable placement close to bone level for enhanced restorative margin. The heart of the connection is the VICARBO® screw. Comprised of many individual threads of carbon fiber that run vertically, uncut down the length of the screw to durably absorb the tensile forces and give the VICARBO® screw its exceptionally high strength.