Torq Control® - Universal Torque Wrench by ANTHOGYR
The success of the implant treatment depends on the precise tightening of the parts placed directly on the implant. A pre-stressed tightening of the screw will help avoid any risk of screw loosening. Also, high tightening torques may lead to screw fracture.
A calibrated tightening can only be guaranteed through the use of a precision instrument offering a torque control system.
The dynamometrical manual wrench *Torq Control® has been specially designed to meet those requirements.
Universal torque wrench, recommended with any type of implants
Perfect control of torque thanks to 7 torques values (10/15/20/25/30/32/35N.cm)
Automatic declutching for optimum security
Only 135 gr for a better freedom of movement
Optimized access in mouth thanks to the micro-head
100° angulated micro-head for easy access in mouth (posterior areas)
One piece design with smooth surface to limit bacterial retention
Safe Relax Automatic Crown and Bridge Remover by ANTHOGYR
The Safe Relax®crown and bridge remover enables you to successfully carry out crown and bridge removals without stress for the patient.
Ergonomic design for improved grip of the instrument
The bayonet attachment lets you insert your hook or wire-tip in a single hand movement!
The high-frequency of micro-strokes  make it the fastest system in the world: up to 20 movements per second!
Unique! Non-reloading mechanism: maintains a constant working axis and precise, continuous contact with the porcelain
Intuitive intensity adjustment ring for the comfort of controlled intensity
Wide range of inserts to suit all prosthesis configurations
Fits to all electric and air driven, e-type motors
Implant Fixture Removal Kit
The implant fixture and fractured screw removal kits are the only kits you need to remove failed dental implants and fractured screws. Watch videos below.
Remove a fractured/broken screw and save the implant, or
Remove a failed implant while minimizing trauma to the bone.
Removal Kit includes: 3 Specialized Implant Remover Screws for all popular implant systems, 1 Remover Wrench for reverse torque,1 Hand Adapter, and 7 Trephines (for difficult combination cases, if needed)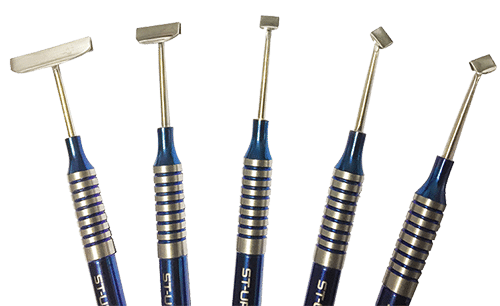 Choukroun Soft Brushing Kit
The Soft Brushing Release Kit takes the headache out of flap surgery, and increases your ability to gain primary closure. With the Soft Brushing Release Kit you can extend the flap without periosteal incision, up to 3cm. No bleeding. No Pain. No Inflammation.
Kit Includes 5 Brush Instruments:
Regular Tip 
Angulated Right Tip (Posterior)
Angulated Left Tip (Posterior)
Medium Tip
Large Tip